Going to SteemFest seems to be like an annual trip which must be made year on year for me. Ever since experiencing the fun at SteemFest 2 at Lisbon, it keeps me wanting to go back … not only to listen to the amazing speakers .. but the connection with so many other steemians out there !
At Steemfest 2 , there were only 4 people from Malaysia that went to Lisbon ….. for some of us, it was our first time travelling in flights for about 19 hours including stopovers
Now for a Malaysian to head to Europe is indeed one of the most expensive places for us, as 1 EURO is about 4.67 Ringgit Malaysia. So it does takes months to save up for a 7 days trip to Lisbon as the average salary in Malaysia is only about RM3,500 per month.
But having reached to SteemFest 2 after the long journey there made the trip all worth it as, unlike a business conference which you typically attend … this was more like a gathering of friends from all over the world who has never met each other but knows each other.
It was indeed memorable and when SteemFest 3 was announced, me and a few fellow Malaysians started planning to go , this time it was Krakow, Poland !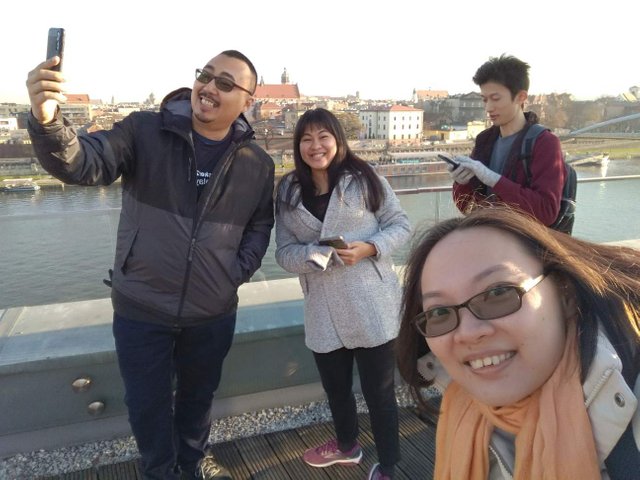 Every trip I go , the experience is different. The people we meet are different as well …. there are of course a few familiar faces which is always great to meetup once more. However when you see a lot more new faces, you then realized that the community keeps on striving and growing larger and larger. Even with a heavy bearish market on crypto you still see the community of the Steem
Why Keep Going To SteemFest ?
It's pretty obvious …. having done 19 – 20 hours of travel over the past 2 years just to head to STEEMFEST and this year its going to happen in just our neighboring country Thailand … it would be crazy not to go!
I'm sure that a lot of other guys from TeamMalaysia are already planning to head over there.
Like any other year, I do not have many expectations from SteemFest as I do know @roelandp will make it a memorable SteemFest experience for anyone who attends.
This year has been an amazing journey as even though I didn't manage to organize as many Steem events as I would have loved to have done, however, I had the opportunity to speak at blockchain events to share about the Steem Blockchain.
More and more events …
This was only possible as there is such a strong blockchain community in Malaysia … and yes we have an amazing bunch of Steemians here as well which I'm forever grateful as even though the price of Steem is on its all time low, they are still extremely actively creating content.
I do hope that everyone gets to go to SteemFest at least once as it would truly be an experience to have. And hopefully this year by the time we head over to Steemfest … Smart Media Tokens would have actually be implemented.
We would then see a lot of amazing new projects coming out as we already see it done within Steem Engine.
Looking forward in seeing everyone once again !
This post is in relation to @anomadsoul + @blocktrades writing task to help fund a lil bit of your steemfest thanks to HF21. Do create a post to ease of your costs on heading to SteemFest Bangkok !
https://steemit.com/awesomepeople/@anomadsoul/there-s-a-lot-of-steemians-who-need-your-vote-to-fund-their-trip-to-steem-fest-check-out-their-posts-2-3